Click here to see the full bridal portrait.
You've been there, and so have I.  I came all ready to shoot a bridal portrait and, when I got inside, I remember I had forgotten my gels for my flashes.  Crap.  To make matters worse, the client really wanted a shot with the chandelier which, of course, was tungsten and to make matters worse, the wallpaper was a deep yellow.  Double Ugh.  I got my thinking cap on and came up with a workable solution (not photoshop) that I applied in the field which resulted in the above.
Equipment Used
– 2 Nikon Sb-28 Flashes (bare bulb) on stands.
– A pocket door frame painted antique white (pocket doors have a large space to house the doors).
Shooting Data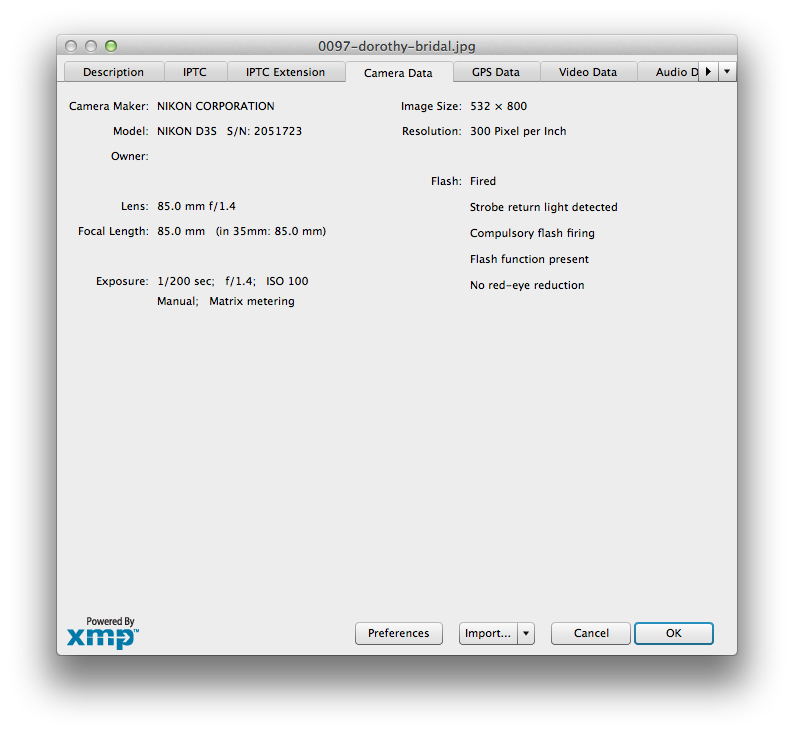 The Setup
While looking around, I saw the door frames leading into the area where I was shooting were an "antique" white color (warm white).  Since I had so much yellow in the shooting area I couldn't blast off a flash without having some serious color issues (and color falloff).  I removed the soft boxes from my Nikon SB-28 flashes, set them to their widest zoom and lined them up on each side of the doorway (which was about 5 feet across).  The flashes were pointed at the door frame so our bride had no direct light on her and it was all reflected from the door frame.  Bouncing all of the light off of the warm white wood gave me a better color temp which more closely matched the ambient (tungsten) light.
The Shoot
After getting everything in position, it was a matter of adjusting my aperture/flash power to get her bathed in "clean" light and my shutter to dial the ambient light up & down.  After a few test shots, and a little repositioning of the strobes we ended up with a shot with the above feel.  It was really important to make sure no direct light hit my subject (different color temperature) and I made use of the ENTIRE door frame as the flashes were bare bulb and I wanted a soft light.  Removing the soft boxes let me create a directional bounce off of the door frame while maintaining a larger, softer light source.  After the shoot, I put the gels back in my bag.  🙂